The global consciousness project utilizes REGs or Random Event Generators to measure the focus of human attention by using instruments that are placed all over the world. Significant events are predicted to have a significant impact on the readings obtained from the REGs. The death of Nelson Mandela is reflected in this data providing further evidence that this project is actually a mechanism for measuring the focus of humanity.
Not surprisingly, many people suggested Mandela's passing should be on our list of global events. The GCP event was set for 24 hours, beginning almost an hour before his death, with a time period modeled on Ted Kennedy, Michael Jackson, and similar to Pope John. The result is Chisquare 87332.851 on 86400 df, for p = 0.013 and Z = 2.238.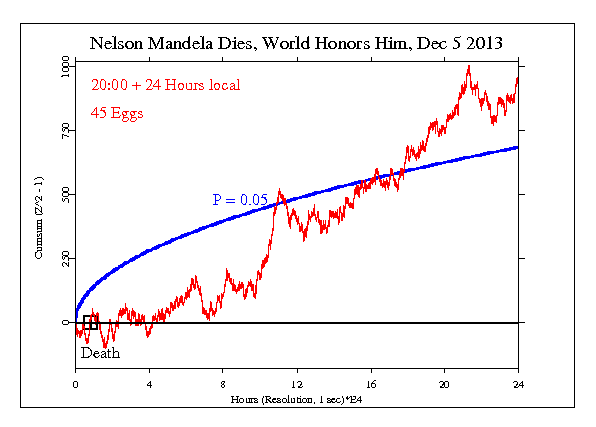 It is interesting to look at the 24 hour graph of the GCP DOT excursions for late Dec 5 to Dec 6. It shows a large proportion of orange and red, indicating high coherence or correlation on an ongoing average basis. This is consonant with the persistent positive deviation in the formal analysis.
http://teilhard.global-mind.org/mandela.dies.html