@smart people here: is there anything to this?
Elsevier publishes a scientific textbook about a new mathematical discovery found in a near-death experience
This new geometric structure matches the dynamics of living and life-like (social) systems with applications in general systems theory, a universal systems model, human clinical molecular genetics modelling, medical informatics, astrophysics, education and other areas of study.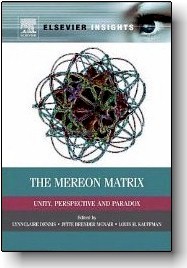 This was apparently derived from an NDE account book I read a while back: Lynnclaire Dennis, The Pattern (1997).
Lynnclaire's NDE.
From the very beginning, despite her religious upbringing, Lynnclaire courageously refused to give this Pattern of Light the ambiguous label of "God". She prefers to simply call it "The Pattern" and describes it as an all-connecting pattern of Light - a three-dimensional
mandala
representative of time and space, and the energy generating matter. Because she experienced The Pattern as pure Love, she has always maintained this to be the reason why Love is all that matters. In simple terms, The Pattern is a knot; but not just any knot. The Pattern is the simplest knot (a
Trefoil Kno
t) and yet most profound knot - a never-before-discovered trefoil knot. The Pattern became of great interest to mathematicians, physicists, astrobiologists, and molecular geneticists who developed from it the "
Mereon Matrix
" - an algorithm representing the unification of knowledge which relies on whole systems both living and life-like. It is a scientific framework charting the sequential, emergent growth process of systems.
Back to the Mereon Matrix:
http://www.mereon.org/
The Mereon Matrix is a new universal model that has led to a new approach to General Systems Theory and non-linear science. The process generated by the unity of forms shows how to dynamically model information over time, thus enabling a system to self-organize in a sustainable way.
Knowledge of the Mereon Matrix evolved as researchers explore how this unitive matrix links geometry and topology. They discovered a highly coordinated, sequential interaction between the seven fundamental polyhedra, the Platonic and Kepler solids, that are the building blocks of nature.
Understanding how discrete forms inform a particular function, investigators were able to demonstrate how the Mereon Matrix relates to a any kind of a system. It is being applied to mathematics, philosophical thought, and physical sciences. But perhaps more significanly, it is being applied in the social sciences; transforming the educational experience of teachers and students it is also being applied by visionaries who know it's time to renew the spirit of business to build sustainable organisations.
The videos on these links:
1;
2
;and
3
, reveal how a precise frequency generates the Matrix in its entirety. For a short read about reasons to consider why you should care about the Mereon Matrix,
click here
.