Bryan & Anthony, Seventh Day Adventists… Kinda |404|
by
Alex Tsakiris
| Mar 5 |
Uncategorized
Bryan and Anthony from the Badventist podcast, can Christians access extended consciousness?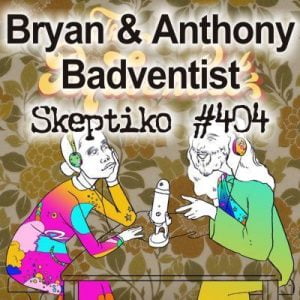 photo by: Skeptiko
Sometimes people say to me, "Pastor Jeff, how do you know there's a God?" and I say, "It's simple math. God either exists or he doesn't." So, let's be cynical, worst-case scenario, there's a 50/50 chance, and I like those odds.
That's wrong.
That's a clip from Young Sheldon, a TV show about a brainiac kid who likes to tell adults how stupid they are and how smart he is for following science and logic.
You've confused possibilities with probabilities. According to your analogy, when I go home, I might find a million dollars on my bed or I might not. In what universe is that 50/50?
Alex Tsakiris:
Now, if you've listened to this show very much you know that the science versus religion debate (non-debate), is an itch I can't resist scratching...
...And when I say, is Christianity worth saving, why is it necessary? I mean, it's really cool that if you travel to a foreign country and you get really sick that you have a network that you can tie into. That's awesome on a practical level, but on a spiritual level, if that is based on some things that are not true, in the way that we normally think about things being true, have you kind of made some compromises there that may inhibit your spiritual growth?
Bryan:
I struggled with that question, like, oh yeah, why don't I study Sufism or pickup Zen Buddhism?
Alex Tsakiris:
That's Bryan Nashed from The
Badventist podcast
. Bryan's a young guy in his early 20s who along with his podcasting partner Anthony joined me today to rehash these questions about Christianity and about, regardless of whether or not it can hold up to the scrutiny of Young Sheldon, it might still offer a language with which to access the very real, scientifically established, realms of extended consciousness.
Bryan:
The answer that I came up with was, "Oh, because the Christian language that I grew up with is the most accessible language for me to interact with the spiritual."
Alex Tsakiris:
Stick around, my interview with Bryan and Anthony from The Badventist podcast is coming up on Skeptiko.
Today we welcome Bryan and Anthony from The Badventist podcast. Two young guys who are really blazing a new trail in the progressive Christian movement.
I met Bryan a few months ago and he helped me out a great deal with some Skeptiko projects and then I was super excited to hear that he had started his own podcast along with Anthony. I listened to a couple of them and I thought they were so relevant to some of the topics that I've been haranguing people about lately, that I really wanted to have these guys on.