Cherylee Black, Laboratory Verified PK |470|
by
Alex Tsakiris
| Nov 3 |
Consciousness Science
Share
Tweet
0SHARES

Cherylee Black, had her psychokinetic abilities tested in controlled laboratory experiments.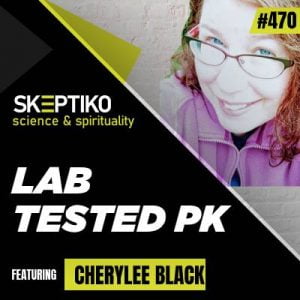 photo by: Skeptiko
That's from the Netflix series, Stranger Things… and that's El of course, a young girl who was raised from birth in an MKUltra lab in order to develop her Psychokinetic powers where she can move things across the room; crush Coke cans while they have electrodes attached to her brain to measure what's going on, and, you know, of course a lot of that stuff is true. And we have today with us a woman who has been laboratory tested to do PK stuff. Cherylee is such an interesting person, such a great person. I've known her for a long time through the show. Made a lot of great contributions to the, to the Skeptiko form over the years. And it was really cool to talk to her about all our experiences, including multiple near death experiences, but in particular, this laboratory work. Doing PK. Here's a couple of clips.
Cherylee Black:
[00:01:15] in terms of how skillfully I could do the PK was completely dependent on practice. So the more I did it, the faster I could get the pin wheel to work and the more control I had over the pinwheel, but whether or not that pin will move, had almost everything to do with my, with my, uh, state of mind that day.
And it actually to get the experiment to work, I had to be in a good mood. It wasn't a negative mood. Whereas if I was in a negative mood, I would try and get that pinwheel to move and something across the room would move instead.
You know, I think these are all very personal journeys and maybe, maybe the scientist doesn't. Need to see, see the PK and maybe some do. And I think you see it, if you need to see it. Um, I think it's just, there's a lot more to us than we realize.