Courtney Brown, The Future of Scientific Remote Viewing |421|
by
Alex Tsakiris
| Jul 30 |
Consciousness Research
,
Consciousness Science
,
Parapsychology
Share
Tweet
0SHARES

Courtney Brown talks about where remote viewing has been and where it's headed.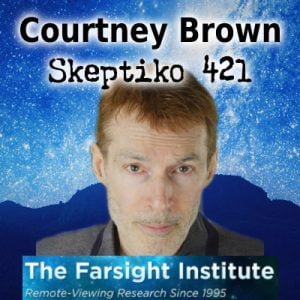 photo by: Skeptiko
Alex Tsakiris: Dr. Courtney Brown, thanks for joining me. You know, I did a lengthy introduction to this interview that people will hear before they jump into this conversation, so I don't need to go over all that again, but I did want to thank you so much for joining me. I think you're such an important figure inside this, I guess I want to call it consciousness community. Your work is amazing. I think you're especially important in light of everything that's going on today, and I'm a little bit surprised when I set up this interview, I was a little bit surprised that, hey, everybody's got to be talking to this guy about this stuff.
I mean we are in the middle of disclosure. I mean the New York Times is coming out and saying, "Oh, yeah, there really are UFO videos released by the Department of Defense," and then, you know, the RV original guy. Dr. Hal Puthoff is putting his name in there and saying, "Yes, this is all real, and ETs are real and UFOs are real, and here you are sitting back, Dr. Courtney Brown, and this has kind of been your thing for the longest time. You're well, well-known inside the remote viewing community as we just talked about, but have you given much thought to where are you are right now, in terms of this stuff that seems to be coming around what you've been talking about for so many years?
Dr. Courtney Brown: Yeah, it looks like it's a bit of a wave but we've seen these waves happen before and, you know, you just have to, it's like, just don't believe it until you actually see it. So some people are coming out and saying some things but in terms of a mass level of disclosure, I don't think that's going to happen right away.
The reason is that the mass level of disclosure where governments actually say, "Yeah, this was going on," they don't do that unless they get something big from it, there has to be some reason for it. They're not going to just unleash that on the public. They'll keep it going as long as they can. They have to get something back from it.
Like if they have a full disclosure, you'd have to say, "Okay, well, what did the government get for that?" Not just our government but the Russian government and like, they don't really get anything for that. The one thing you should erase from your mind permanently is that they'll do it just to be good guys. I mean that just won't happen.
So you're getting some people come out, but you're still not getting any articles about it and the level that it needs to be talked about openly. Whether that happens in 2020, I don't know. Whether it happens in 2021, 22, 23, 25, I don't know, but the process of making that happen is incremental.
So unless we keep, just giving this stuff out that we do, it won't ever happen. So it's very important that you don't expect like a sudden wave, like a sudden, immediate, there'll be an incremental movement and what we do is part of that incremental movement as a good part of it.
What you're seeing right now is something that's very valuable from that perspective of that incremental movement, but it's the biggie that you're actually thinking about.