Dr. Donald DeGracia, NIH Medical Scientist Talks Yoga and Consciousness |388|
Share
Tweet

Dr. Donald DeGracia, breakthroughs in cell research and a deep understand of the yoga/consciousness link.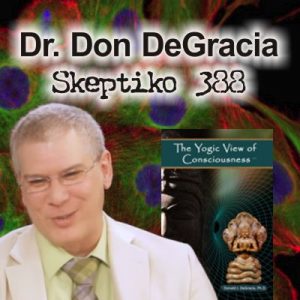 photo by: Skeptiko
I have an interview coming up in just a minute with Dr. Donald DeGracia from Wayne State University School of Medicine. Don is a brilliant guy. His details of his day job are way over my head as he's doing some very advanced research on stroke victims, and cell death, and he's received grants from the National Institute of Health grants and all of that good stuff. And he has a totally different approach to it, a non-linear approach, partly because he sees the current scientific model as being kind of ridiculous.
But, what you'll hear in this interview is that none of that stuff really matters much because what Don's about is something much deeper… it has to do with spirituality, the nature of consciousness and the connection to yoga.
Of the hundreds of people that I've interviewed, Don is one of my absolute favorites, particularly because you won't hear about him in a lot of other places. You won't see a lot of interviews with him, he's not out there pumping books, he gives his books away for free, and his thinking is just imaginative, unique and he's not afraid to tell it like it is.
So, it's an interview I really enjoyed doing, I hope you enjoy listening to it.
Alex Tsakiris:
So, we already told folks you're there at Wayne State University, in the department of physiology, you're a professor, but you have this secret life, you have a couple of secret lives, but one of your secret lives is you're really into comics and you're wearing your Comic-Con… What t-shirt are you wearing there?
Dr. Donald DeGracia:
Black Panther.
Alex Tsakiris:
There we go.
Dr. Donald DeGracia:
That's the original Black Panther for all the Black Panther fans out there.
Alex Tsakiris:
You have comic street cred, you don't shy away from it, but you also have this other secret life of a yogi, and I think that is so cool and we relate to each other because I'm a yogi, and anyone's a yogi who says they're a yogi, you know? I had a guy…
Dr. Donald DeGracia:
Effectively, yeah.
Alex Tsakiris:
Yeah, well it's true. I had a guy on the show recently, and the guy was a total, in my opinion, a total pretender in terms of this, kind of, deeply spiritual, kind of, wise kind of guy. So, we kind of got into it a little bit and I said, "Yeah, I'm a yogi," and he goes, "What kind of yogi? What's your heritage, what weekend retreat did you go to?" kind of thing, and it's like, "No man, yogi is a state of mind. It's a philosophical shift, anyone can be a yogi," right? Once you're a yogi, you're not a yogi anymore, because it transcends that, but I kind of don't want to get too…
Dr. Donald DeGracia:
No, I agree with that completely, yeah, it's totally a state of mind. Yeah, that's one of the awkward things about when I talk about yoga, because people ask me what I do, do I practice meditation and things like that. I do Yama and Niyama, that's what I do, because I'm not advanced enough to do meditation.
Alex Tsakiris:
Yeah, explain that.
Dr. Donald DeGracia:
It's the truth.
Alex Tsakiris:
That's awesome.
Dr. Donald DeGracia:
It's the truth.
Alex Tsakiris:
Explain that.
Dr. Donald DeGracia:
Well, you know, in both, What is Science? and in The Yogic View of Consciousness, I define Yama and Niyama as the reading, writing and arithmetic of yoga. Right? So, if you can't do reading, writing and arithmetic, you can't do anything in the real world and if you don't have Yama and Niyama you can't do yoga. Like for example in Yama, you have like celibacy is one of them, which is one of the more drastic ones, but being unselfish, being non-harmful, things like that, make up the list of the Yama's.
And then the Niyama's is like, studying the spiritual scriptures, meditation, things like that, and what they really amount to, is that Yama is, when the world itself loosens its grip on you, right? It's all designed to help you loosen your grip on the world because… I mean there's background to this, it's kind of hard to throw it in out of the blue, you have to… And this is what, I think, when you say you're just a yogi, anybody can be a yogi with a state of mind, well, it starts at realizing that the world isn't what it seems to be, and you start to question it, and you start to wonder, "What the hell is going on? What is this all about?" And once you get to a certain level of sophistication, you realize the world is not really something you can grab on to, right? Doubt, you just start to feel doubt, you really do become skeptical. Right? So, your title of Skeptiko is really quite apt to the whole enterprise.