Kevin Annett, Whistleblower of an Evil Church |433|
by
Alex Tsakiris
| Nov 15 |
Spirituality
Share
Kevin Annett is a former minster turned whistleblower of a now admitted large-scale conspiracy of church and state.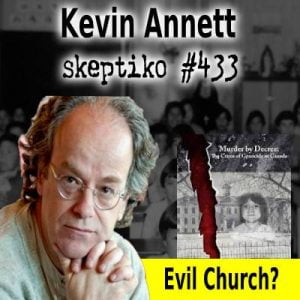 photo by: Skeptiko
Alex Tsakiris:
[00:00:06] Welcome to Skeptiko where we explore controversial science and spirituality with leading researchers, thinkers, and their critics.
At this point, most of us are, at least, a little bit tired of stories about social injustice, but one of the unfortunate consequences of the social justice warrior thing is the proportionality of it. Take, for example, today's guest.
In 1994, as a minister of United Church in British Columbia, Kevin Annett walked into, what he probably thought was his dream job. Now that job turned into a nightmare and a 25-year ordeal as he became a whistleblower of some of the most horrific, holocaust-level crimes in Canada's history. And worse yet, chances are, you've never even heard about any of them.
You know, on this show I'm always drawn to stories where one person can make a monumental difference, and Kevin Annett is certainly one of those people. Besides being an award-winning journalist and filmmaker, he's also become a continuous voice for justice in a very important way. And I think is, as we were just chatting about a minute ago, his story is critical to understanding our culture in general.
So, it's a bit of a long introduction there, but Kevin, it is a great pleasure to have you on Skeptiko and thanks so much for joining me.
Kevin Annett:
[00:01:49] Thank you, Alex. I appreciate the time to be able to do this.