Kevin Day, Navy UFO Contact After-Effects |403|
by
Alex Tsakiris
| Feb 19 |
Others
,
Skepticism
,
Spirituality
Share
Tweet
0SHARES

Kevin Day, was a TOPGUN Navy Air Controller when he was thrust into one of the biggest UFO events in history.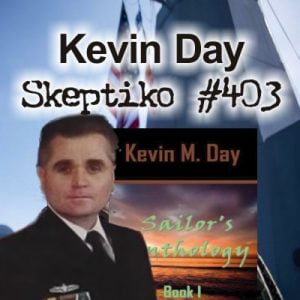 photo by: Skeptiko
Sunday, November 14th, 2004, morning. The Nimitz deck crews busy launching F/A-18F Super Hornets helicopters and E-2 Hawkeye electronic warfare planes. The mission – simulated air defense…
That's a clip from the very excellent documentary that you'll find on YouTube,
The Nimitz Encounters
, and we'll get back to that in a minute. But first…
First
this morning we're going to be talking to Leslie Kean, New York Times reporter who first reported on the Navy departments release of UFO footage that really changed the world. It was one of history's most important stories and I'm very proud…
Now, that was
Whitley Strieber interviewing, of course, Leslie Kean
who you've heard on this show who broke the New York Times story, the obvious, at least to me, politically controlled PSYOP release of UFO information. But I want to play that clip because Whitley does put it in perspective. This is the biggest news story ever and if Whitley's too [alt-alt 00:01:13] media for you, go to Fox News.
UFOs have captivated the public interest for decades, but they've always been dismissed, including by me, as the province of whackos, but that is changing, thanks to some remarkable video tape and first-hand accounts from very sober people who are trained to identify aircraft. These are aircraft apparently that are moving in ways that appear to violate physics, that are flying very differently from any aircraft ever observed and way faster than any plane that we know any foreign country has. What is this?
That's of course Tucker Carlson doing a mea culpa on the UFO thing.
So, the point being, how could this have happened right under our noses, right during our watch and why do so many people still not get it? Well, some people get it.
Nearby, the guided missile cruisers USS Princeton has been tracking unknown aircraft that appear and disappear from her sophisticated Aegis radar screens. The SPY-1 radar is one of the most advanced sensors ever deployed. The Princeton's main role is air defense of the Strike Group for the past few days. Senior Chief, Kevin Day, has noticed these peculiar craft appearing on his radar screen, and some…
That's today's guest,
Kevin Day (author of Sailor's Anthology)
. 20-year Navy veteran and TopGun Intercept Controller who was drawn right in the middle of not only one of the [biggest UFO disclosure events in history], but into the middle of a UFO contact experience.
Kevin Day: After this now famous Commander Fravor intercept happened, I went back up into combat and I found one of these things on the radar and I got the relative bearing from the ship. I went up topside and I looked at that thing through the Big Eye binoculars and I think that's the moment, if I had to say there was a moment, that was probably it, when I saw it with my eyeball. Whatever affected me happened then.
I mean, when Chakataya [sp] told me that I was incredibly important to what's about to happen, I didn't know what to think.
This is a multi-layered, multi-dimensional, multi-tunnels down the rabbit hole adventure. I'm tempted to try and deconstruct it and pull it all apart, but it's another one of those where I probably need to just let it go and see where you take it.
Stick around for my interview with Kevin Day.