Tim Freke & Richard Cox, UFOs, 9-11, Climate And Truth |391|
Share
Tweet

Tim Freke and Richard Cox join me for a freewheeling talk about stuff they usually don't discuss.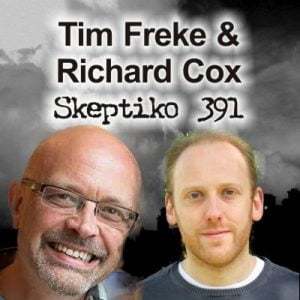 photo by: Skeptiko
Alex Tsakiris:
Today we welcome Tim Freke and Richard Cox back to Skeptiko for what I hope will be entertaining freewheeling dialogue about all sorts of stuff that I've cooked up.
Tim Freke is, of course, a bestselling author, an acclaimed international speaker, as well as a "standup philosopher" with a deep love for deep truth, which I share with him, and it's just always drawn me to Tim's fantastic work. I consider him a friend and a colleague and he's always great to connect with. I'm very glad to have him on today.
Richard Cox is the co-host of Tim's podcast and he's created just a really good podcast of his own called Deep State Consciousness Podcast and I've really enjoyed talking to Richard over the last year or so and diving into his world and some of the podcasts that he's gotten into, that seem to have a great synergy and crossover with a lot of the stuff that I've done here on Skeptiko.
So, both of you, Tim and Richard, this is going to be so fun. Thanks for joining me.