Tricia Robertson, 30 Years of After-death Communication Research |462|
Tricia Robertson has explored after death communication for more than 30 years.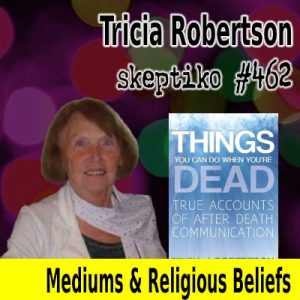 photo by: Skeptiko
[CLIP]
That's Matt Damon from the movie Hereafter, showing the other side of mediumship and how hard it can be on the mediums themselves. It's a topic that today's guest, the very, very excellent Tricia Robertson has explored for, well, for decades now in her work with after death communication, experiments, writings and just generally as an explorer of the topic. Here's a clip from my interview.
Alex Tsakiris:
[00:01:05] So this will not offend your religious beliefs, and I thought, wow, why would you say that? How do we know that? Why would we even care? I mean, I understand you're trying to meet people where they are, people are having questions about after death communication, I understand that. But on a different level, why would we possibly care if we're going to the next level of understanding what this stuff really is? Why would we care about someone's religious beliefs?
Tricia Robertson:
[00:01:37] Well, it's got nothing to do with religion whatsoever. But if you take the hypothesis that a lot of people believe in God, a cosmic consciousness, an energy that they're going to go to, they need to try and understand it. And I do not know what the next level of testing would be. No, I don't want to offend anyone's religious belief. I mean, I would never take it away from them because some people need that to hang on to, but whatever we show with our survival of consciousness and the evidence, it should fit anybody's religious beliefs.